Improving Customer Experience in Banking Industry
With GPT-Enabled Chatbots
Let DocoMatic, intelligent chatbot for business communication, handle the challenges faced by the banking industry.
Slow customer support
Customers often get delayed or no responses to their queries, especially when they need faster solutions, leading to customer dissatisfaction. But with GPT-enabled chatbot, users will get quick solutions to their queries, leading to utmost customer retention rate.
Unclear bank policies
Many times, users tend to get confused with bank policies and they find nobody to clear their confusion. So, with the help of GPT chatbot, users get instant clarity of banking policies and norms.
Long wait times
To get their questions answered, users have to inquire during the working hours only. But with AI-powered chatbots, users can seek answers anytime of the day as chatbots are available 24/7.
Staff shortage
Banking industry is facing staff shortage as the number of daily visitors are in excess. So, deploying GPT-Enabled chatbots automates various data-driven processes and enables you to free up staff for other manual and complex tasks.
Use DocoMatic to be More Productive and Less Worried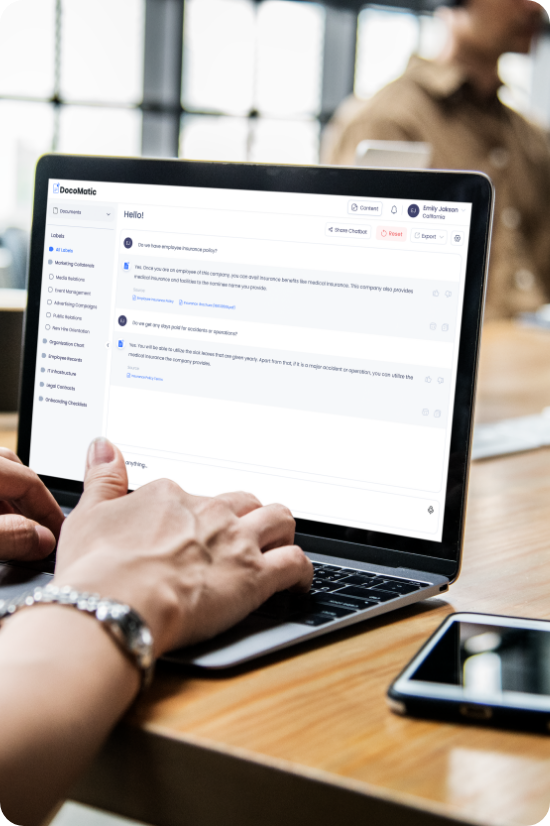 Upload PDF or TXT file
Using DocoMatic, you can import an existing PDF or TXT file from your system. Also, you can create a document directly using DocoMatic and add write-ups for research papers, articles, product descriptions, FAQs, policies, and more. Use these uploaded/created files to create
Protect your data
To ensure that all of your files are safe and sound, DocoMatic lets you enable password protection. So, nobody except the authorized personnel could access the files. This feature is crafted to keep data stealers away from your original files and crucial information.
3 Level Labeling
When dealing with a large number of files, it is important to label or sub-label files according to their authority, category, or date. DocoMatic lets you label documents up to 3 levels. So, you can easily play around with hundreds of documents flawlessly.
Assign Rights
What else do students need when they have an interactive and intelligent chatbot? It solves their queries instantly, thereby building better engagement.
Know How DocoMatic can Revolutionize
Traditional Banking Processes
Improving Customer Service
With DocoMatic, you can make your own Chatpedia that deliver quick responses, reduces wait times, is available 24/7, and delivers the utmost customer satisfaction.
Marketing and Sales
By asking a few questions to the customers and knowing their preferences, Chatpedia can give marketing and sales ideas to them, providing better clarity about a banking scheme, policy, or product.
Personalization
Have you got multiple departments and projects in your institute? Worry not, as you can create and manage several projects with DocoMatic, as well as share their access with the desired team.
Ensure data security
The Chatbot of DocoMatic can enhance customer experience by generating personalized responses based on client information, preferences, and history.
Easy Documentation
When using DocoMatic, you need not worry about documentation. Upload, remove, or access them anytime you want.
Frequently Asked Questions
GPT-enabled chatbots can ensure data privacy and security by leveraging various techniques like data encryption, password protection, and 2-factor authentication.
By analyzing and interpreting consumer inquiries with the use of natural language processing (NLP) and machine learning algorithms, AI-powered chatbots can be trained to comprehend different languages and cultures. In addition to human input and feedback, they can be trained with large datasets that feature examples of linguistic and cultural diversity.
The accuracy and reliability of the chatbot, its ability to integrate with existing systems and processes, its level of customization and flexibility, and its compliance with data security and privacy regulations are all important considerations when choosing an AI-powered chatbot for a banking institution.