Is Your Crisis Management Company Facing these Challenges?
Slow response times
A crisis may require your business to handle a huge number of inquiries at a time, and using only human operators can slow you down. Empower them with chatbots to provide faster responses.
Limited availability
Any crisis can come untold, and it may not be wise to wait. So stretch beyond your working hours with a chatbot and provide an instant reply at any time.
Inconsistency in responses
Inconsistent responses at the time of crisis can only add fuel to expand it even further. However, AI chatbots are always consistent in responding so that no confusion arises.
Improper usage of resources
Doing simple yet time-consuming tasks, like responding to customer queries, manually can be costly at the time of a crisis. So leave that to a chatbot and use your manpower wisely.
How Can the GPT Chatbot of DocoMatic Help Your Crisis Management Company?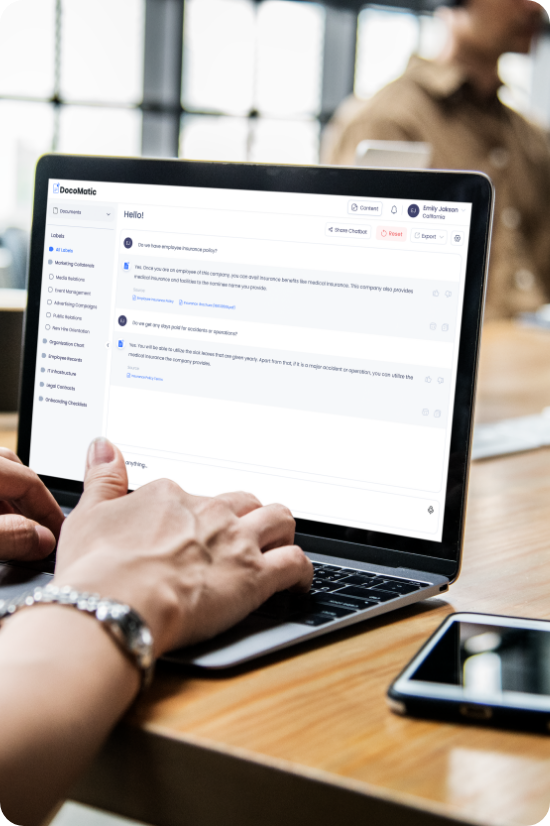 Remove any lag time
At the moment of crisis, even seconds are important. But don't worry, as you have DocoMatic with you, which will help you respond to each and every query as they arise.
24/7 availability
Be available to your clients around the clock with your GPT chatbot, as a crisis doesn't always knock on the door to enter. Your readiness will only help you tackle it faster.
Personalize your responses
Even while facing the same crises, not everyone's situation will be identical. So personalize your responses as per the person's query with DocoMatic and help them better.
Remote support
Sometimes, you cannot reach the situation quickly or at all. But with DocoMatic, that doesn't stop you. Provide remote support with your chatbot to the person in need.
Streamline Crisis Management Operations with DocoMatic
Save your resources
Use your manpower for somewhere more rewarding. Docomatic can resolve simple to complex queries using the chatbot you create with it.
Be available always
Docomatic will be there to respond to your client at any time. This will enhance the perceived quality of your services and grow your brand value.
Scale your services faster
GPT-powered chatbots created with DocoMatic can handle much more queries at a time than humans. So scale faster by handling queries quickly.
Stay consistent
Inconsistency in your replies can be very harmful to the person in need and your business image. But that won't happen with DocoMatic.
Respond in real-time
Whether there is a moment of crisis or not, your DocoMatic chatbot will respond in real-time to all the queries thrown towards it at any time.
Frequently Asked Questions