Resolving Education Industry Challenges
With GPT-Enabled Chatbots
Lack of resources
Educational institutions struggle with limited resources, whether it is a lack of teachers or learning materials. GPT chatbot offers unique learning experiences and homework assistance without requiring additional resources.
Accessibility
Students who have physical or mental disabilities need more support that is not available in conventional classroom settings. That is where GPT chatbots come with the right accessibility and enhanced learning experience for all the students.
Little personalization
A teacher cannot focus on the entire class or provide one-on-one explanations for topics. This leaves students feeling demotivated or lagging behind. GPT chatbots can help by analyzing every student's learning style and creating personalized teaching methods.
Time constraints
Today, teachers are left with limited time and extra burden in catering to repetitive tasks. Institutional staff can use GPT chatbots to delegate homework assignments, track attendance, and manage other tasks.
Less feedback
Feedback is an essential part of learning where students struggle the most. Not having proper clarity and support keeps them stressed. Using a GPT chatbot offers them valuable feedback and support to improve their performance.
How DocoMatic, an AI-powered Chatbot Solution,

Helps the Education Industry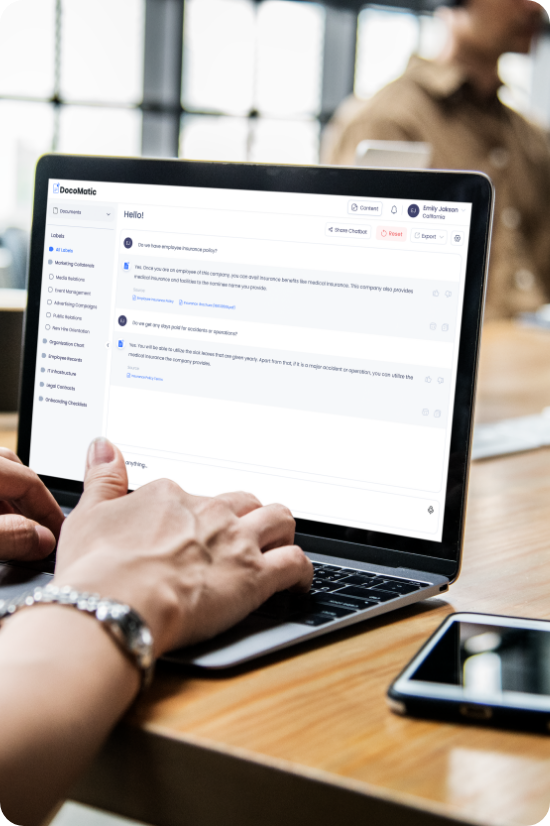 Enable virtual personalization
Explain topics faster with quick document access for your students. There's no better way to learn than to have all the questions answered by a personal tutor in seconds!
Quickly upload or create documents
Upload your existing documents from Google Drive, Dropbox, One Drive, Box, document link, or web crawler within minutes. You can also create your own documents and sync them with Chatpedia.
Organize documents
You can organize your documents with distinct label colors to bifurcate them. Enable better clarity in students by sharing the right category of labels with them.
Engage students better
What else do students need when they have an interactive and intelligent chatbot? It solves their queries instantly, thereby building better engagement.
Provide 24/7 support
Deliver more enhanced solutions to alleviate students' doubts during enrollment or afterward. You can add FAQs, manuals, policies, checklists, and other information to support their queries better.
Assist teachers
Lower the stress of teachers with an intelligent assistant that streamlines their document-sharing process. Teachers can support each student by sharing information in a personalized way.
Streamline Daily Education Operations With DocoMatic
Super quick
upload

Invest a few minutes, and you are done uploading your educational documents securely. Whether you need to upload files from your device, web crawler, or from Twitter, Amazon, and Shopify, DocoMatic makes it possible for you.
No need for a
manual search
Let DocoMatic be your institution's companion and allow your team to get rid of manual searches. This smart support system helps you with immediate access to the required information.
Manage files
seamlessly
Have you got multiple departments and projects in your institute? Worry not, as you can create and manage several projects with DocoMatic, as well as share their access with the desired team.
Ensure
data security
With DocoMatic, you can add an extra layer of security to your educational institute's files. Based on your requirement, you can keep them open for all, password protected, or share with only those who receive the invite.
Verify the source
of information
For any search using DocoMatic, you will get the source of your answer. So, you can stay relaxed as you know that the answers are from a reliable source and not given erroneously.
So, create automated chat support like ChatGPT for your educational institute to answer your students' queries in real time.
Frequently Asked Questions