Issues Faced by the Financial Sector That Can
be Resolved With Chatbots

Long support times
Because of all the customers that require technical support from banks, customer service lines are very busy. This is why using a chatbot makes sense, as you can redirect the queries to it and have the chatbot resolve them within minutes.
Inability to solve customer queries
Sometimes, due to a lack of understanding, banks are unable to resolve customer queries. However, a chatbot with advanced NLP abilities can recognize customers' needs in multiple writing forms and can solve them instantly.
High cost of customer care
To simply resolve customer queries, you not only have to hire staff, but you also have to spend extra time and money to train them so that they can easily attend to the customers. A chatbot does not require such massive resources to be instantly useful to your company.
Hard to analyze and deliver data
Only if your employees are highly trained and know the ins and outs of your bank can they cater to complex customer queries. Whereas a Chatbot can help customers out with complex or new details in one spot within a fraction of a second.
Limited support times
Because financial support centers are operated by humans, they have their set timings and are unable to attend to queries after those timings. An AI Chatbot allows you to truly deliver consistent 24×7 support for your customers across the globe.
How DocoMatic Resolves Issues for Financial Institutions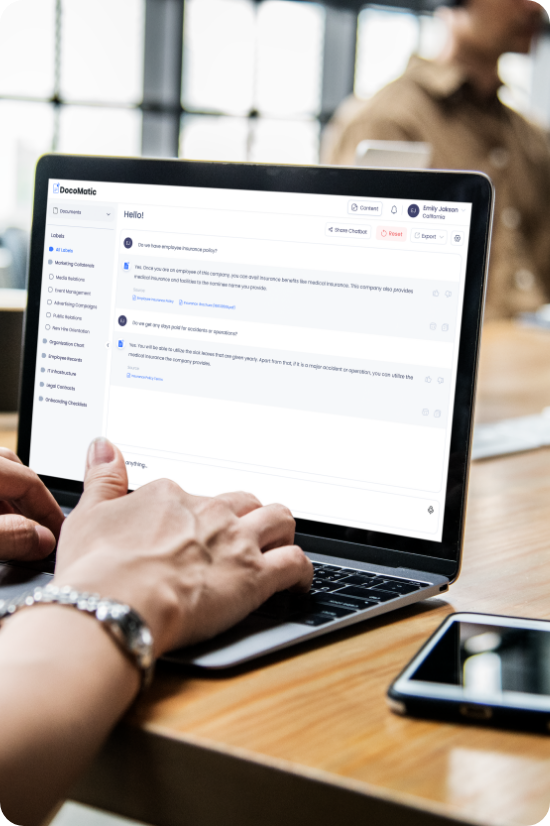 Bank Customer Support
DocoMatic, an AI-powered chat assistant for business documents, helps banks resolve all of their customer's banking-related issues in one spot with a highly capable Chatbot without you having to hire a massive team of executives to handle such issues for your customers.
Investment/Financial Advice
If your bank offers financial solutions and consulting services, then those can be outsourced to DocoMatic's Chatbot, Chatpedia, as it will instantly understand the relevant data and advise your customer on their finances accordingly.
Automated customer service
Existing automated customer service systems are not only limited in their functionality but are also notorious for being hated by customers. Replacing such existing systems with Chatpedia ensures the utmost performance and customer satisfaction.
Personalized marketing
With a solution such as Chatpedia, you can market new policies and offers that best suit their needs. This marketing solution requires no additional costs and ensures that your customer's needs are fully understood and catered to 24×7.
Accurate data delivery
When using Chatpedia, there are no concerns of miscommunicating information whatsoever as it derives all of its data from a local database which is fully controlled by you.
Streamline Finance Systems With DocoMatic
Comprehensive Customer Support
Our state-of-the-art Chatbot Chatpedia is able to instantly resolve any financial customer queries with its powerful GPT-3 powered language model that can comprehend and contextualize the text given by customers.
Custom
Database
Because all of the data given to Chatpedia is sourced by the files that you upload to DocoMatic, you can rest assured knowing that the chatbot delivers nothing but the most accurate and sufficient service to your customers.
24X7
operations
Chatpedia works around the clock to attend to customers without taking a single break allowing you to easily continue your operations without any backlog whatsoever.
Inbuilt
content editor
In case you ever need to change the data in your database on the fly, you can do so using the inbuilt content editor that allows you to not only create new files but also edit existing files according to your convenience.
Low
service cost
When you have Chatpedia you do not need to spend a fortune on a massive team for customer support as it can handle all customer queries by itself instantly.
Frequently Asked Questions
DocoMatic outperforms all the current methods of customer support as the traditional methods are inefficient and require a lot of costs to operate. With a chatbot from DocoMatic, you can also cater to the global audience thanks to the highly advanced NLP abilities that are provided to you.
In order to function, Chatpedia requires data from the company that uses it. This is to ensure that it provides the most relevant and accurate data to your customers. It also gives you full control of what Chatpedia is allowed to deliver to the customers.
While Chatpedia does hold the potential to revolutionize customer support, some customers might still prefer interacting with human executives. This is why the jobs of sales executives will still mostly be around despite the brilliance offered by Chatpedia.