Challenges Faced when Integrating Personalized Suggestions That can be Solved by Chatbots
Difficult to predict customer needs
WIthout a chatbot, a company is blind when choosing product or content suggestions to potential customers. This is because a chatbot can contextualize suggestions based on previous prompts.
Limited ways to interact with customers
Most businesses have very limited ways in which they can attend to their customers and understand what their needs are. A chatbot goes around this issue by actively conversing with customers and decoding intent.
Finding product descriptions
With a chatbot, a customer can instantly gain more knowledge about the products and how they can be used for each and every individual case instead of having to search around for the information that they need.
Marketing suggestions
To convince a potential customer to check out more of your products or content is difficult as you have to make them relate to it. This is where a chatbot can be used to contextualize the suggestions to their given use case to make them relate to the product.
Offering an engaging experience
Giving your customers a way to engage with your content and products using a chatbot can be invaluable as customers have easier access to additional information and context.
How DocoMatic Resolves Issues with Personalized Suggestions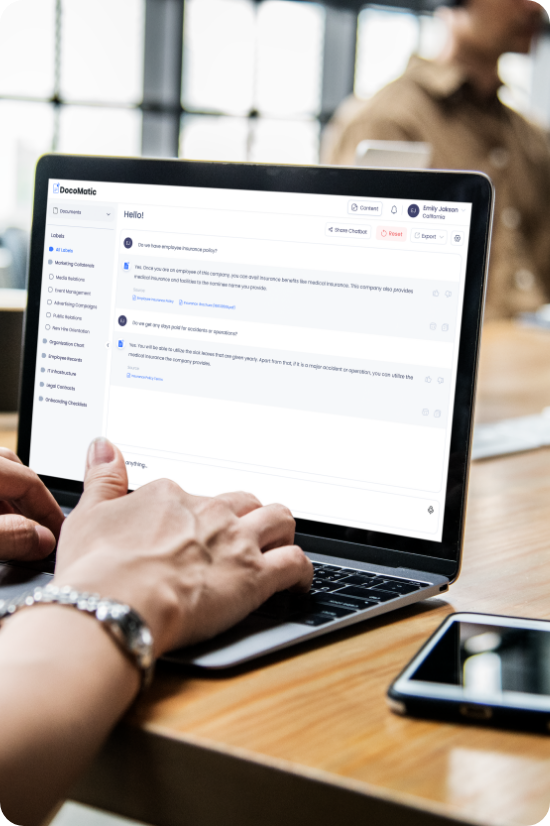 Targeted marketing
Because of its highly powerful natural language processing abilities, Chatpedia is able to understand customer intent and market the relevant suggestions accordingly.
Lead generation
When your website has a chatbot that customers can interact with and get suggestions for relevant products from your company, your chances of conversion increase dramatically.
Product inquiries
Whenever customers have any queries they can simply use the chatbot to resolve them, making it easier for your company to attend to any inquiries whatsoever.
Multi-lingual support
Since Chatpedia is built on the GPT-3 model it can easily comprehend and communicate in multiple languages to interact in the most optimal way with customers.
Automated suggestions
When you use Chatpedia, you do not have to worry about giving the best suggestions to your customers as Chatpedia handles the entire ordeal for you automatically based on the needs of the customer.
Streamline Personalized Suggestion Systems with DocoMatic
Custom database
Because DocoMatic allows you to have your own database for Chatpedia you are in full control of all the responses that are given to your customers.
Round-the-clock support
There is absolutely zero service downtime when you use Chatpedia to deliver personalized suggestions to your customers as it is a fully automated solution.
Greater cost savings
Since your suggestion system is fully automated, you do not have to spend a lot of money behind human sales executives or silly pre-generated pop-ups.
No coding required
Creating an AI chatbot like Chatpedia sounds like a scary task however, DocoMatic has made it very simple. All you have to do is enter the required data and wait for it to sync to Chatpedia.
Frequently Asked Questions
Since Chatpedia runs on the powerful GPT-3 natural language processing model, it can easily understand any human input. It can also understand the intentions of the customer by looking at the previous prompts and can give suggestions accordingly.
We realize how important it is to adhere to certain standards of speech and have thus given you the ability to select the tone in which Chatpedia interacts with your customers. You are granted the ability to change it at your discretion at any given time.
Indeed. To change the response of Chatpedia to any given prompt, you can simply update the database and set it to whatever you please using the Inbuilt content editor that lets you create new data or edit existing data at any given time.