Unlock the Potential of DocoMatic's Chatpedia to Boost Your Leads and Conversions
Customer engagement
Attracting more customers seems like a Himalayan task for sales and marketing teams due to their ever-changing demands. Your solution to sales issues can be better dealt with DocoMatic as it helps you manage multiple projects using labeling.
High volume of customer queries
Repeated customer queries are something that leaves sales reps frustrated, and it may lead to a poor customer engagement rate. DocoMatic can turn the tables by handling numerous queries with appropriate responses.
Communication gaps
When you don't have an AI assistant like Chatpedia, customers may not get answers quickly, which results in poor communication. Docomatic, being an ideal solution, can attain your clients with exact information and increase customer satisfaction.
Unavailability of sales reps
Since any person associated with sales and marketing can't offer help to customers 24/7, the GPT-enabled chatbot like Chatpedia has the Upper hand as it makes sure your clients leave happily with proper answers.
Marketing Challenges Hampering Your Sales Profits? Reduce Them to Rubble With DocoMatic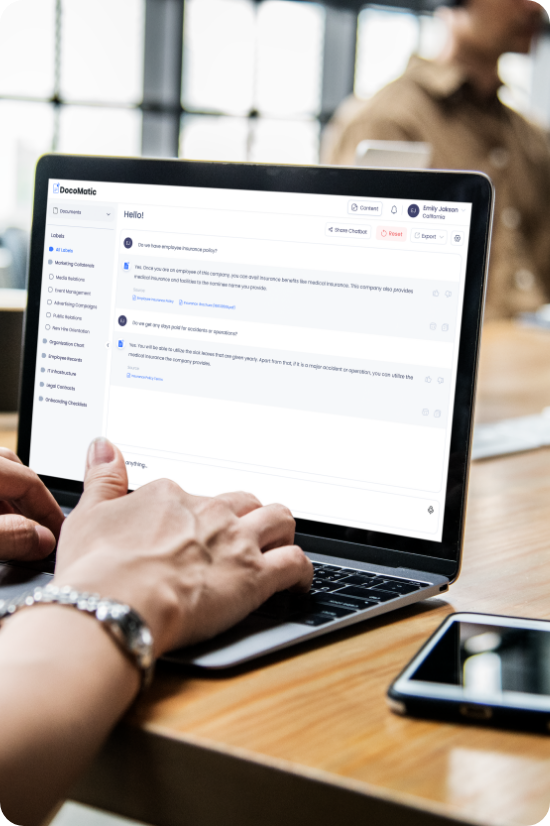 Seamlessly upload sales docs
Whether it is a sales doc or marketing e-paper, uploading them on Chatpedia takes a few seconds. It is possible to import your documents from multiple options, such as Web Crawler, Twitter, Amazon & Shopify on an AI-driven platform.
Ease of sales project management
Sales professionals and marketing specialists can manage more than one project by assigning custom rights to specific users. What's more interesting is you can get multi-document references and insights.
Advanced search on Chatpedia
DocoMatic brings you the AI assistant, Chatpedia, which can provide accurate information at the click of your finger. Hell yes! DocoMatic's AI-powered chatbot leaves no stone unturned in answering your queries quickly, that too with verified sources.
Here's How You can Make the Most of GPT-enabled DocoMatic
Sales information at your fingertips
Since DocoMatic's Chatpedia can respond with accurate answers to your queries, you don't need manual efforts to search your documents, especially when you are in haste.
Manage projects effortlessly
Sales management is easy-peasy on a document assistant like DocoMatic. Keep your hassles aside by sharing access rights with your sales reps and set yourself free from extra workload.
Securely save your documents
With AI chat assistant, you don't have to worry about important sales and marketing documents. They are safely locked in the digital vault, from where you can securely share them with your team using a password.
Multiple ways for importing docs
Importing docs on DocoMatic hardly takes a few seconds as it supports multiple file formats like PDF (.pdf ) or Text files (.txt). The list doesn't end here, as DocoMatic will support more formats in the coming days.
Frequently Asked Questions