Challenges That Are Building Gaps Among Fans and Sports Celebrities
Fans engagement
Be it soccer, baseball, field hockey, or any motorsport, fans can't stay away once the ball gets rolling. But, things may get tricky if they are unable to find the right live stream to watch or miss out on buying tickets. DocoMatic aims to reduce such gaps with its Chatpedia, an advanced search engine.
Athlete insights
Having insights into the sports world is significant not only for the fans but also for athletes and coaches. When you don't get such statistics to analyze your game, minor errors may cost you the game. Even fans might not find details of their sports idol. To change the course of the game, luckily DocoMatic comes up with the right answers with verified sources.
Personalized experience
In the sports world, it's normal to create hype before the kick-off, but anyhow you may follow the sport remotely. DocoMatic's Chatpedia aims to join the dots and provide a better-personalized experience. You get what you are looking for in seconds and even share it with your acquaintances.
Language barriers
Since sports is the platform for joining fans from all over the world, some of them might have difficulty understanding complex words. DocoMatic addresses these challenges by retrieving information that is easy to understand and relevant to their chosen sport.
DocoMatic's Chatpedia – The Only AI Assistant You Need to Stay Connected With the Sports World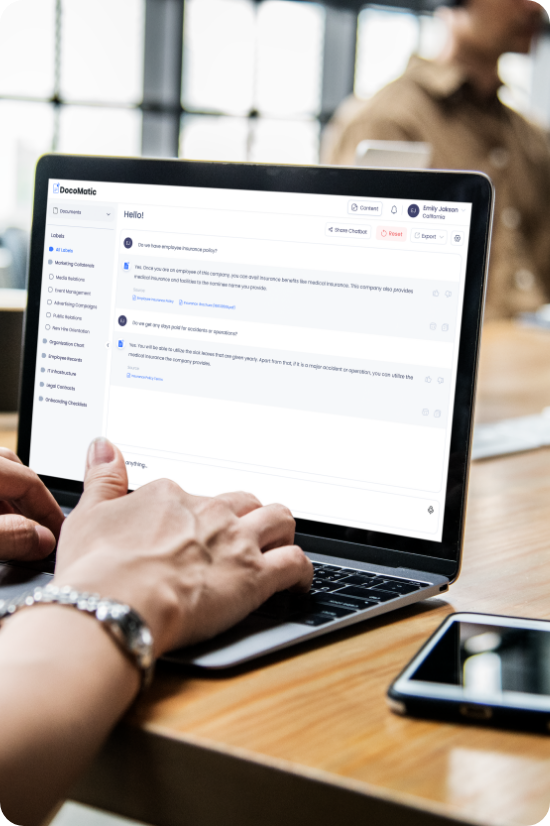 Easy uploading of sports information
Sports information can be safely stored on an advanced AI platform like DocoMatic. The process takes merely a few seconds to upload your new data, so you don't require manual effort. Ultimately leaving no chance of misplacing the information.
Sports data management
DocoMatic simplifies the process of managing sports data and confidential information in its digital vault. This means that you can get multi-document references, statistics, and insights related to sports around the clock. AI-driven platform also helps you share important documents privately.
Syncing files in seconds
Businesses that are associated with sports don't need to create bundles of important documents. Instead, store them on DocoMatic so that it can find important docs quickly when you are in haste. In addition to that, you can check the status of whether it is synced or not.
Personalized interaction with Chatpedia
Our AI assistant, Chatpedia, is happy to lend you a helping hand when you are looking for important documents. The advanced search engine can do human-like interaction with its users to deliver an enhanced user experience.
How does GPT-enabled DocoMatic have the edge over Manual Processes?
Enhanced fans engagement
DocoMatic's Chatpedia keeps fans engaged with useful information and news that are inserted by its user. Garnering such information, Chatpedia frequently responds to the fans' queries and helps them find the answers in less than a minute.
Be available always
Docomatic will be there to respond to your client at any time. This will enhance the perceived quality of your services and grow your brand value.
24/7 sports statistical data
Running a sports business would be a difficult job as you need to handle more document bundles. DocoMatic offers an AI-driven document assistant that is capable of providing statistics and facts about football, cricket, hockey, and many more, once it learns from inserted data.
Confidential documents
DocoMatic allows businesses to keep their important document safe and secure in a digital portal. Once done, documents are easy to share with just a one-click to sports lovers or privately to organizations using a password.
Frequently Asked Questions