Manage Vehicle Maintenance Challenges With GPT-Enabled Chatbots
Complex diagnostics
Vehicle maintenance often involves complex diagnostic processes which become difficult for non-experts to understand. But GPT-enabled chatbots provide a quick solution and identify the issue which can be resolved by anyone.
Time-consuming process
Handling vehicle maintenance is often time-consuming, which causes inconvenience to customers who require instant repair. With GPT-enabled chatbots, you can streamline the process by providing a rapid and accurate diagnosis.
Limited knowledge
Scheduling appointments for service availability becomes tedious. By using GPT-enabled chatbots, you can easily manage service availability and make work easier by allotting appointments efficiently.
A new employee or business owner might have limited knowledge regarding vehicle maintenance. But with the help of GPT-enabled chatbots, you can receive vast information and data in this field.
How DocoMatic, an AI-powered Chatbot Solution, Helps the Vehicle Maintenance Industry?
Upload multiple customer documents
DocoMatic allows vehicle maintenance businesses to create a business document chatbot like GPT-3 to upload and create multiple documents, such as repair manuals, user manuals, or service bulletins.
Organize service list
AI-powered chatbot enables the vehicle maintenance industry to organize their service list as per the requirement or priority. The service list can be customized to include particular services that the industry offers, making it simple for them to find the services they need.
Control document sharing
DomoMtic provides a secure platform for the storage and sharing of documents. It offers access and sharing documents to authorized personnel only. This helps to ensure the security of documents and prevent unauthorized access.
Quick customization
Create documents that are specific to the vehicle maintenance industry using AI-powered Chatpedia to get instant answers. This means you can produce technical documents that are tailored to the needs of your customers, which increases customer satisfaction.
Streamline Vehicle Maintenance Services with DocoMatic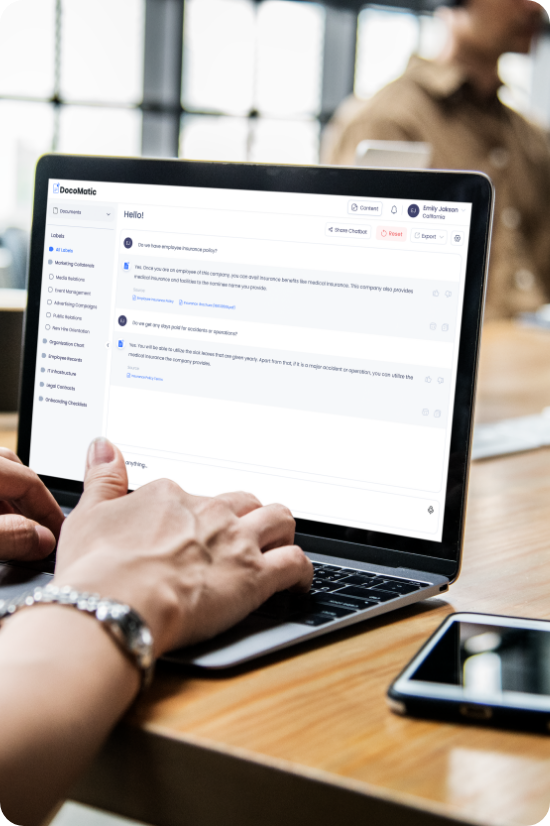 Increased efficiency
DocoMatic's AI-powered Chatpedia solution eases vehicle maintenance service by automating the process of scheduling appointments, including repair estimates, and generating service reports.
Improved accuracy
The utilization of the GPT3 model in DocoMatic's Chatpedia solution improves the accuracy of technical documents. Also, it reduces the risk of errors in the documents.
Cost savings
The automated responses reduce the workload on customer support teams and the need for additional staff. Also, it provides quick solutions regarding vehicle maintenance and its services.
Manage users & assign Chatpedia rights
DocoMatic Chatpedia provides the flexibility to add multiple users and assign custom rights as per the roles and responsibilities.
Frequently Asked Questions