Revolutionizing Law Firm Industry With Our
Advanced GPT-3


Powered Chatbot

Here's the list of challenges of legal professionals that may hit the entire legal industry.

Misplacing legal
docs
Professionals in this industry are dealing with important legal documents and have higher chances of misplacing them. DocoMatic saves your documents in the digital vault and keeps them handy for future use.

Paper document
bundles
Piling up documents on a daily basis is not a new thing for legal firms or attorneys. Such challenges are recurring for an old generation who deals only with pen and paper. Turning the tide, DocoMatic eliminates manual search hassles by saving time and cost for its users.

Maintaining
privacy
Legal practitioners have many confidential documents that should be kept handy. Otherwise, such privacy concerns may lead to unavoidable consequences. But not with the DocoMatic, as it keeps your docs password protected. No wonder why DocoMatic is the ideal solution as far as privacy is concerned.

Finding the right
document
Sending a hard copy for blue-ink signatures and time-stamped means you need right documents from the bundle, which could be time-consuming. This won't be the case when you have got your back covered with DocoMatic's Chatbot, which takes mere seconds to find any document.
How is DocoMatic Transforming the

Legal Industry Digitally?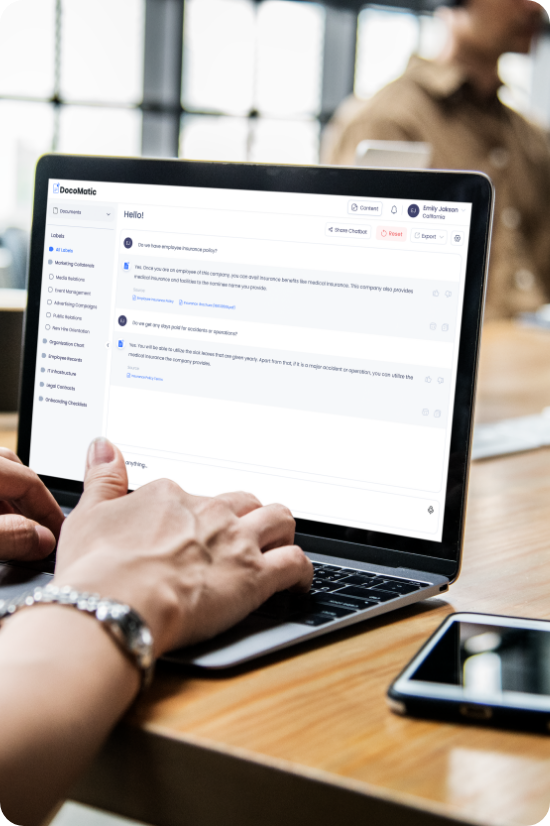 Upload your legal docs easily
Uploading legal docs merely takes a few seconds when you have Chatbot by your side. You can upload documents using multiple options such as Web Crawler, Twitter, Amazon & Shopify.
Share docs with a single click
DocoMatic allows its user to take benefit of one-click share. The advanced feature lets you share your document with general clients, or you can share them privately using passwords.
Manage more than one project
Legal professionals usually have more clients and even more cases to manage. Such hassles can be chalked off using labeling where you can provide access to specific clients.
Get the source of information
While some AI-powered bots are only limited to providing answers, DocoMatic has the Upper hand when it comes to fetching data as it provides the source used for each answer.
Now, create a chat assistant for your business documents with DocoMatic so that your customers get answers to their queries in real-time.
Your Legal Document Search Does Not Need Manual
Efforts with DocoMatic?
Retrieve accurate
information in
seconds
DocoMatic offers a GPT- enabled chatbot that responds with accurate answers to your queries. Plus, it gives you sources used for each response.
Manage multiple
legal cases
Lawyers working on more than one legal case can easily share rights case-wise with their clients. Even you can add a website URL and logo while managing multiple cases.
Keep your files
confidential
Legal contracts, important documents, and court judgments are easy to store when you have AI-driven software like Docomatic. Secure your legal document with a password.
Upload docs in
multiple file formats
DocoMatic supports multiple file formats like PDF (.pdf ) or Text files (.txt) so that you don't get stuck while uploading docs. Soon, DocoMatic will support more formats as well.
Frequently Asked Questions