GPT Chatbot: Solution to Several Challenges Faced by Mental Healthcare Industry
Here's the list of challenges of legal professionals that may hit the entire legal industry.
Limited access
There are major discrepancies in care due to the difficulty in accessing mental healthcare services, particularly in rural or underserved locations. GPT-enabled chatbot offers accessible mental healthcare services round-the-clock, wherever the patient may be, hence improving access to care.
Stigma and taboo
The stigma and taboo associated with mental illness and therapy might prevent people from seeking assistance, hence escalating mental health problems. GPT-enabled chatbots gives patients the option to get care in the privacy of their own homes, lowering the stigma and enhancing patients' convenience.
Limited resources
Because mental healthcare practitioners are frequently overburdened, patients have to wait a long period and have access to limited resources. GPT-enabled chatbots offer patients resources, educational material, and assistance, easing the pressure on mental healthcare professionals and enhancing patient outcomes.
Limited ours
Because mental healthcare treatments can only be offered during specific hours, it can be challenging for patients to get help in an emergency or after regular work hours. GPT-Enabled Chatbots are accessible 24/7, ensuring that patients can get treatment whenever they want.
Streamline Daily Mental Healthcare Operations with DocoMatic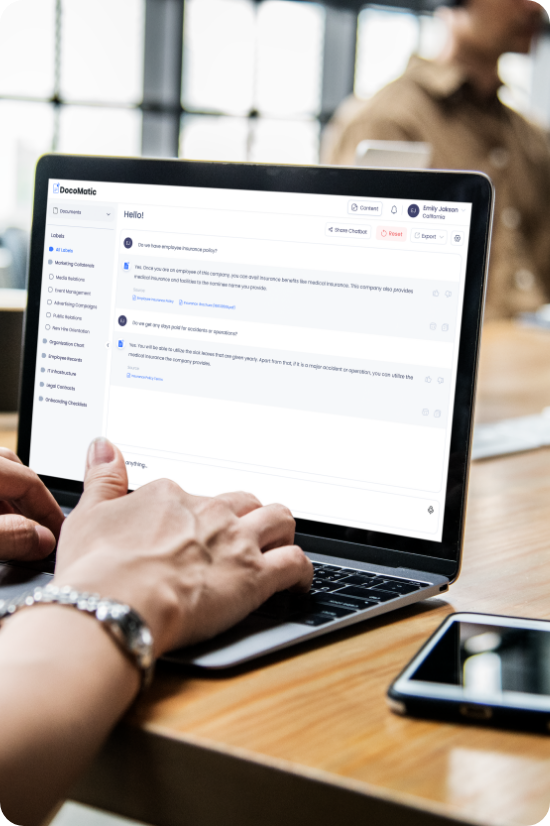 Quick access to information
Mental healthcare professionals can easily obtain relevant information and resources by using DocoMatic's efficient and accurate AI-powered search to better assist their patients.
Comprehensive patient evaluations
Insights from multiple documents can help with thorough patient evaluations and treatment strategies.
Streamlined communication and collaboration
Collaboration and document sharing with multi-user access can improve patient treatment by streamlining communication among mental healthcare professionals.
Organized Daily Operations
Professionals in the mental health field can stay organized and effective in their everyday operations by using tools to organize and label documents, such as Gmail.
Real-Time Insights
Mental healthcare providers can benefit from real-time insights and information from DocoMatic's Chatpedia enabling prompt patient care.
Improved Patient Outcomes
DocoMatic's effective document organizing and search tools can assist mental healthcare professionals in developing more thorough and individualized treatment plans that will increase patient satisfaction and outcomes.
So, adopt this AI-powered chat assistant like ChatGPT and be available for your users to answer their queries in the middle of the night even.
Why Choose DocoMatic to Improve Mental Healthcare Operations?
Cost-Effective
DocoMatic eliminates the need for infrastructure and human resources, which lowers the cost of delivering mental healthcare services.
Scalability
DocoMatic can be readily scaled to serve a huge number of patients, ensuring that each of them receives continuous, excellent care.
Personalization
By utilizing machine learning algorithms to comprehend patients' unique needs and preferences, DocoMatic can offer them individualized medical treatment.
Data collection
Mental healthcare professionals can make data-driven choices and enhance patient care by using DocoMatic to gather useful data on patient behavior and outcomes.
Improved accessibility
By offering treatment to patients in remote or underserved locations where access to mental healthcare is limited, DocoMatic can boost the accessibility of mental healthcare services.
Get resources & support
DocoMatic can provide patients resources and support, such as coping strategies, educational materials, and other resources to promote mental health.
Frequently Asked Questions