Use GPT-enabled Chatbots to Grow Your Gaming Business
Limited support
Players have a hard time resolving any technical glitches that arrive during gameplay, as customer service often takes time to respond. A well-trained chatbot can guide your players to take the required steps.
Inconvenient purchase process
In-app purchases are a major source of income for a gaming business. But often, the process isn't easy. So guide your player with a chatbot to help them make a decision.
Limited engagement
The interaction between game players and developers is very limited. But, with a chatbot, developers can know what their audience wants to make the game even better.
Manual search
It is always inconvenient to do a manual search for tasks like finding gaming documentation. But with a chatbot to your service, it is as easy as just asking it.
How Can the GPT Chatbot of DocoMatic Help Your Gaming Business?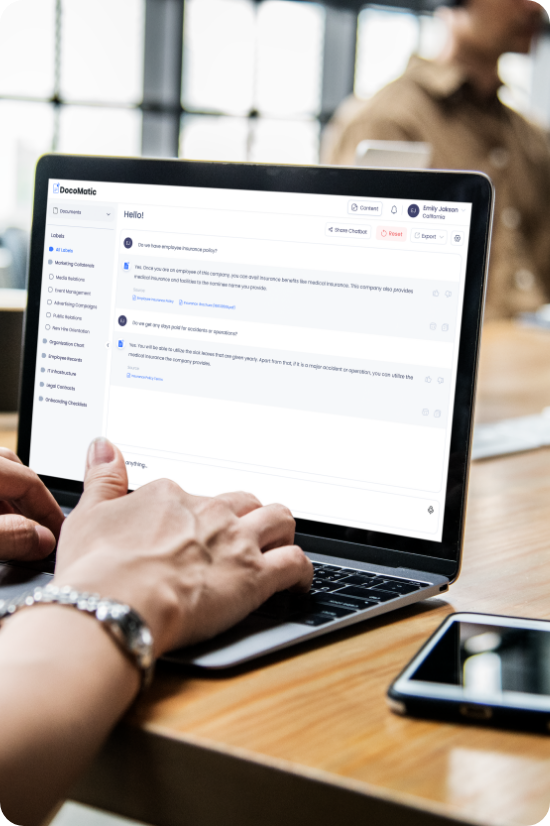 Enhance brand image
The popularity of mobile gaming is crazier than ever. So, with a seamless customer experience round the clock, DocoMatic enhances the brand image of your mobile gaming business.
Increased efficiency
With the population of mobile gamers increasing every day, you don't have to panic about handling growing customer queries. Your personalized DocoMatic chatbot can efficiently handle them all.
Reduced costs
A reduction in cost is an increase in profit. So, automate repetitive tasks, such as manually processing information, and use your manpower wisely to do more complex stuff.
Streamline Gaming Business Operations With DocoMatic
No more manual search
Scanning through piles of documents to find the relevant information can affect the efficiency of your gaming business. But not with DocoMatic.
Save money and time
DocoMatic supports smart work and helps you do so as well. How? By handling all – from simple to complex – gaming inquiries with its chatbot.
Be present with your customers
Don't make the gamers wait, especially when you have DocoMatic with you. Our chatbot instantly responds to their queries 24/7.
Enjoy scalability
Check off a large number of gaming inquiries easily. Our GPT-powered chatbot is created just for you so you can scale your customer service.
Improved customer service
The extent of your gamer satisfaction is directly proportional to your readiness to respond to your customers. So, reply instantly with DocoMatic.
Show your brand style
You can teach your DocoMatic chatbot your unique brand style so it can be reflected in its interaction with your employees and gamers.
Frequently Asked Questions