In the business sector, proposals hold importance in acquiring new clients, partnerships, and opportunities. The business proposal is used as a sales pitch to convince potential customers that your company is the best choice for their needs.
But how can you craft a professional and effective business proposal? In this article, we will provide you with a comprehensive guide on how to write an appealing business proposal. For your convenience, we will additionally provide some business proposal templates and examples.
So, whether you are a small business owner aiming to increase your customer base, a freelancer attempting to land a new client, or an entrepreneur searching for finance for your startup, this article will give you the necessary knowledge and skills to create an effective business proposal.
What is a Business Proposal?
A business proposal is a written document that presents a potential solution to a specific challenge or opportunity in a business context. It is an essential tool for businesses looking to entice new clients, investors, or partners. A compelling business proposal can help you establish your brand, demonstrate your expertise in the field, and influence your target market.
Benefits of a business proposal
A well-written business proposal can help you:
Build your authority and demonstrate your knowledge.
Differentiate yourself from the competitors.
Boost your potential for bringing in new partners, investors, or clients.
In general, a business proposal is a potent document that can assist you in reaching your professional objectives by persuading others to take the desired action. You can improve your chances of success and stand out in a crowded market with a well-written proposal.
Types of Business Proposals
Mainly there are 3 types of business proposals:
1. Solicited Business Proposals
Business proposals that are requested by a prospective client or organization are known as solicited business proposals. Solicited Business Proposals follow a specific format and are generated in response to a Request for Proposal (RFP) or Request for Quotation (RFQ). The solicited business proposal must offer a thorough and convincing solution that satisfies the goals and expectations of the client and must showcase the proposer's knowledge, experience, and competence.
2. Informally Solicited Business Proposals
Informally solicited business proposals are similar to Solicited Proposals, but the only difference is they are not submitted in the response to Request for Proposal (RFP) or Request for Quotation (RFQ). An Informally Solicited Proposal can be presented to the potential client as an unsolicited concept or idea. Despite being less formal than solicited proposals, they nonetheless call for a strong, convincing answer that meets the goals and demands of the client.
3. Unsolicited Business Proposals
Unsolicited proposals are the ones that are sent to prospective clients or businesses without their prior request. They are often used to highlight a business's strengths and offer a clear idea or response to consumer needs. Unsolicited offers must address the client's issue clearly and persuasively and must show the proposer's knowledge, skill, and capability.
How to Write a Business Proposal in 6 Simple Steps?
Creating a business proposal may seem difficult, but with a clear methodology, you can produce an engaging document that clearly explains your suggested course of action. Here are some steps for creating a business proposal:
Step 1: Research your target audience
The first stage in creating a winning business proposal is to conduct in-depth market research on your target market. This will enable you to customize your offer to their particular requirements and preferences. When studying your target audience, you need to consider some things such as:
Their industry and specific requirements
Their guiding principles
Their difficulties and problems
Step 2: Define the problem or opportunity
The next stage is identifying the problem or opportunity that your suggested solution seeks to solve is the next stage. This needs to be said clearly and in a manner that your target audience can easily comprehend. When defining the opportunity or challenge, some things to take into account are as follows:
The source of the opportunity or the problem
The effect of the issue or chance on the targeted audience
The urgency of the issue or opportunity
Step 3: Propose a solution
Once you propose the solution, it is important to curate an implementation plan. It should sound convincing and be presented in a straightforward way so that it addresses the fundamental cause of the problem or opportunity. While putting up the solution, you should consider the following points:
The features and advantages of your suggested solution
How the problem or opportunity's underlying causes are addressed in your suggested solution
How your suggested solution stands out from the competitors
Step 4: Develop an implementation plan
After offering a solution, it's important to develop an implementation strategy outlining how you intend to implement your solution. You should include the following elements in the implementation plan:
A thorough schedule outlining the major milestones and deliverables
A description of the resources needed to implement the solution
A description of the obligations and duties of every team member
Step 5: Create a budget
Next, you must develop a budget that details the expenses related to implementing your suggested solution. Your spending plan should cover:
A thorough accounting of the expenses connected with each part of your implementation plan
A breakdown of the entire cost involved in implementing your suggested solution
Step 6: Review and edit your proposal
After you've finished writing your proposal, it's crucial to carefully review and edit it. By doing this, you can be sure that your proposal is error-free and properly conveys the problem you're trying to solve. When analyzing and editing your proposal, keep the following in mind:
The structure and flow of your proposal as a whole
The manner in which you presented your suggestion
The precision and depth of your suggestion
By following these steps, you can easily create an appealing, detailed, and solid proposal that effectively educates your target audience and persuades them to take action.
Business Proposal Template
You can create a great business proposal by following the above-mentioned steps. Also, you can directly download, edit, and share your own detailed proposal from the below-given button.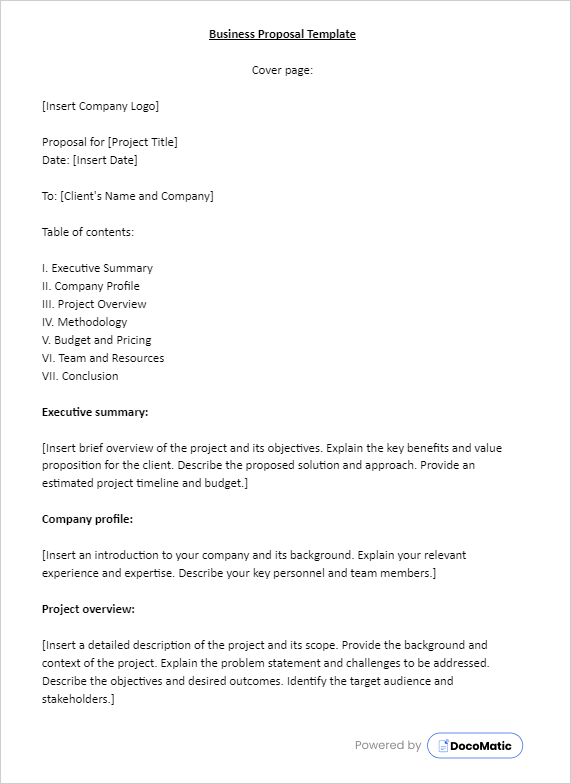 Free Business Proposal Template
Download the Template
FAQs
To make your business proposal stand out, you should concentrate on the requirements and goals of the recipient and personalize your proposal accordingly. There are many business proposal ideas available but using any of them, make sure your proposal is organized clearly, has eye-catching images and charts where needed, and is visually appealing. A captivating executive summary that highlights your special value proposition and significant differentiators should also be included.
It's important to follow up after submitting a business proposal to make sure the recipient has received it, has examined it, and has any questions or issues that need to be addressed. The optimal time to follow up is one or two weeks after submitting the proposal. Use email and phone conversation as necessary. Respect the recipient's time and preferences when following up, and be ready to add more details or change your business idea in response to criticism.
Your business proposal's executive summary needs to be concise and compelling. It should include the essential benefits and arguments that matter most. It should contain a concise overview of the issue or opportunity, your proposed solution and its distinctive selling point, information about your qualifications and relevant expertise, and an outline of the budget and timeline. Remember that the executive summary will frequently be the first part of the proposal that the recipient reads, so it needs to be compelling.
Final Thoughts
A strong business proposal can help get new potential clients, partners, or capital for your company. You can raise your chances of success and differentiate yourself from the competition by clearly articulating your suggested solution, emphasizing your special value proposition, and responding to any potential objections or concerns. Whether you're a seasoned entrepreneur or just starting out, following the tips and best practices outlined in this guide can help you write a winning business proposal that gets results.
Remember that creating a business proposal can be time-consuming and difficult, but you can speed up the process and produce a proposal that stands out by using templates and samples, avoiding common errors, and concentrating on the essential components of an effective proposal. If you are looking forward to automating your documentation process, then opt for DocoMatic. With it, you can manage hundreds of documents hassle-free. Also, DocoMatic's Chatpedia can be a perfect document chat assistant for your organization.